The ride from Sydney to Wollongong in support of the MS Society was held on Sunday 1st November 2015.
eXsight Tandems Illawarra was well represented on the 2015 MS Sydney to the Gong Ride, with four (4) teams on Cannondale tandems and three (3) solo riders, participating in both the 90 km and 56 km rides. A total of $935 was raised by the eXsight TRN team as sponsorship for the MS Society.
Geoff Hunter has written the following report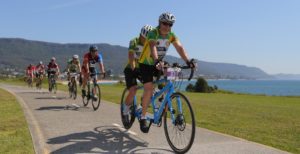 The day dawned with light cloud cover, mild temperatures and a slight northerly breeze that favoured all those participating in the ride (in excess of 9,000 cyclists entered). The tandem teams left Sydney at 6:30 am and all eXsight members finished safely.
Three (3) of the tandem teams reached Wollongong in under 3 hours 20 minutes with the last finishing in 3 hours 45 minutes after some transmission problems. The only other issues encountered were when Greg Lanson & Geoff Stratton punctured at Coledale, and Aldo Vella & Terry Ollier had problems with their middle chain ring at Austinmer and had to complete the ride in the big chain ring, much to Aldo's delight and Terry's chagrin.
We were joined by another tandem team at the Scarborough fruit stall and compared the number of "the person on the back is not peddling" comments before taking some photos, a feed of fruit, topping up our drink bottles and riding on to the finish line for coffee at the Green Room Cafe, Wollongong City Beach.
Participants included:
Tandem Teams – Aldo Vella & Terry Ollier, Greg Lanson & Geoff Stratton, John Lindley & Gill Taylor and Geoff Hunter & Victoria Barthus.
Solo Riders – Phillip Bratter , Peter Felvus and Colin Moodie & family.