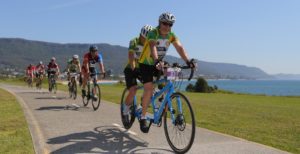 Exsight Tandems Illawarra  provides tandem cycling opportunities for people with vision impairment, or who for any reason can't ride solo.
Exsight was started in April 2008 and now includes a regular roster of able cyclists riding with a group that includes blind, low vision and people with other disabilities, enjoying the delightful cycle tracks and coastal scenery, and always a coffee!
We have also branched into  acoustic target shooting for vision impaired shooters – we are the only approved club to do so in NSW.  Shooting Australia and Blind Sports NSW have expressed an interest in our Acoustic Target Shooting activities.
Exsight runs entirely on volunteers. We are a registered charity. Exsight operates primarily in the Illawarra region of New South Wales, but we also have members and tandem bikes in Sydney and Armidale, and target shooters in the Illawarra and Sydney.
Registered Charity Tick. 
Browse the News posts to read articles by club members about being a captain, a stoker, the history of Exsight and more.